Angels Explained: What You Should Know About the Nine Choirs
by Dr. Mark Miravalle
Release as part of the CD of the Month Club | MP3 of the Month Club: April 2013
Dr. Mark Miravalle – Professor of Theology and Mariology at Franciscan University of Steubenville – teaches on the fascinating subject of Angels. Why did God create angels? How are they different from humans? Are guardian angels found in Scripture? Discover the answer to these questions and many more as Dr. Mark Miravalle explains the nine choirs of angels, their differing roles and hierarchical order, and how much angels can help us if we only ask.
Customer Comments:
"I liked the very concise & detailed explanation of how the angel studies were done by the Church, the history of the angels, all the different types of angels & their duties (good & bad), the hierarchies, tying info to scripture & tradition, the importance of talking/praying to our guardian angel daily, invoking the angels, going to Adoration, etc. Everyone likes angels, but I didn't realize there was so much info, & how to join the good side to fight the fallen angels!"
– MOIRA, HOUSTON, TX
"I enjoyed the full explanation and the prayer to St Michael."
– Gary, Ormond Beach, FL
"This was an eye opener….thank you so much!!"
– Gracie, Robstown, TX
"I loved hearing about the different kinds of angels. After hearing this talk i fell in a deeper love with my guardian angel and St. Micheal the Archangel. Fascinating stuff!"
– Edgar, Ripon, CA
"I listen to it twice to absorb all the info. It was I interesting to learn about guardian angel."
– A Southern Pines, NC
Yes! I'd like to order…
Angels Explained: What You Should Know About the Nine Choirs
Catholic CD by Dr. Mark Miravalle
Other Recommended Titles
Evangelizing Catholics
Dr. Scott Hahn
Relativism
Chris Stefanick
Shameless: Seeing Yourself as God Sees You
Jeff Cavins
St. Joseph: Patron of the Universal Church
Dr. Mark Miravalle
We Must Go Out: the Sacrament of Confirmation
Fr. Michael Schmitz
Pray Like a Saint
Matthew Leonard
Winning the Culture War
Dr. Peter Kreeft
Abba or Allah
Dr. Scott Hahn
Why Is There Hell? What You Should Know About It!
Dr. Scott Hahn
Seven Deadly Sins – Seven Lively Virtues
Fr. Robert Barron
Order the April 2013 CD/MP3 of the Month
Click on the image below to order: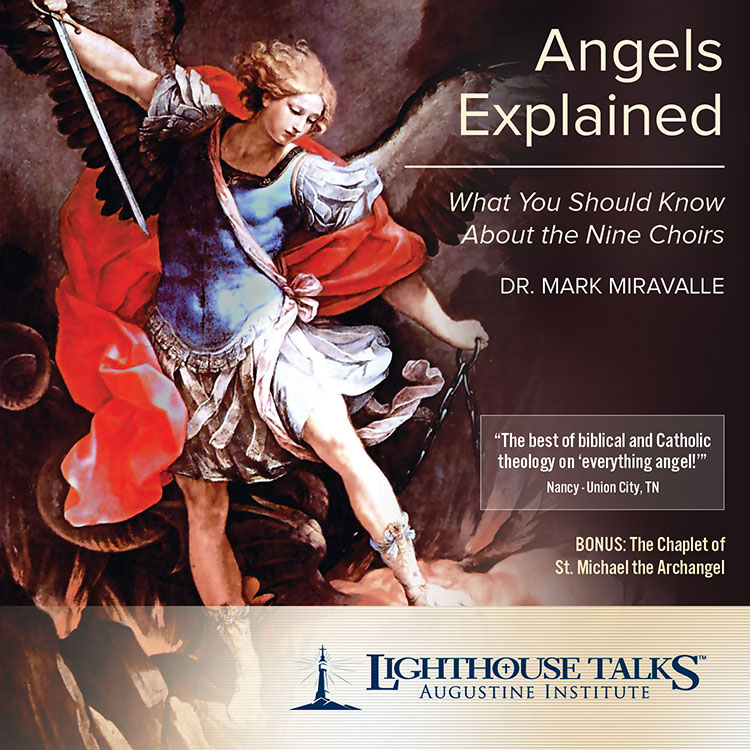 Author: Faithraiser.Net
This author has published 478 articles so far. More info about the author is coming soon.